How to choose a face serum?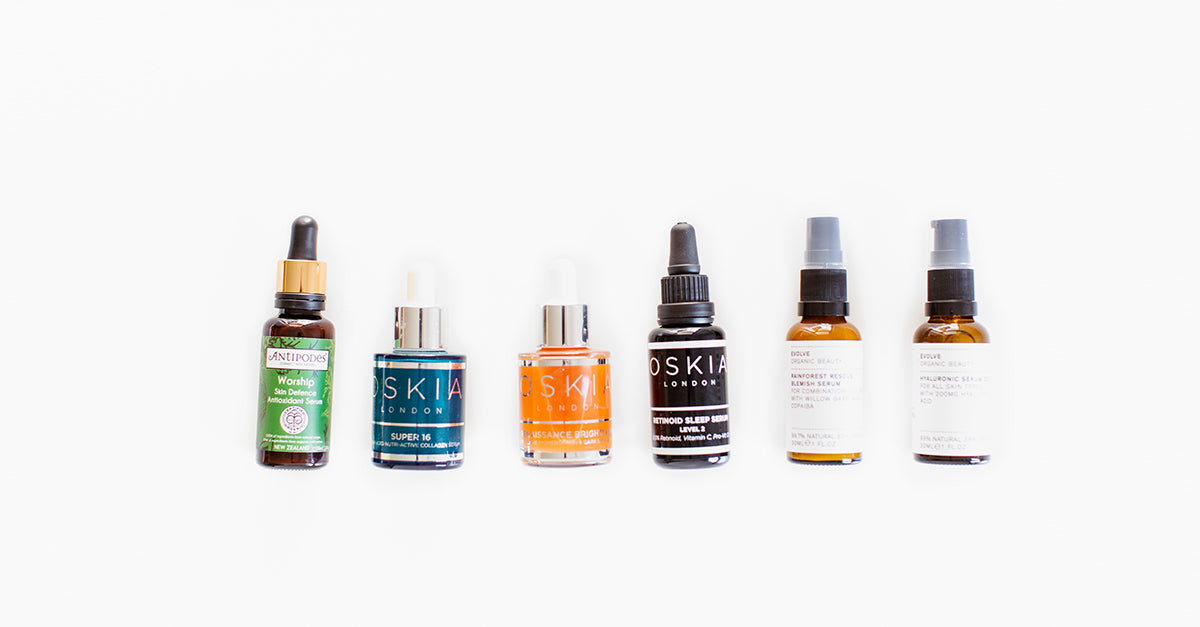 Skin care serums can provide a targeted answer to all kinds of skin care questions, regardless of your skin type. Discover the different types of serums, and which one is right for you.
---
What is a serum?
Serums allow your skin care routine to go further and get better results. Used under facial oil or moisturizer, serums are highly concentrated in active ingredients and treat specific problems such as wrinkles, shine, firmness, among others. Their texture is light and they have very fine particles in the main ingredients, which allows them to enter directly inside the skin cells.
In order to maximize the benefits of a serum, unlike an oil that can be used alone, this must be combined with a moisturizer or facial oil.
Our main tip: to get the most out of your serum, apply it to skin that is still slightly damp, right after your skin toner.
You need to use a serum if:
Have acne or blemishes
Blemishes and acne are not a teenage problem at all and can persist at any age. They also tend to scar the skin or leave skin blemishes that can be difficult to combat. Since sebum and the bacteria that cause pimples are just below the surface of the skin, the best solution is to treat the problem with an anti-blemish serum. The Rainforest Rescue Detox Serum by Evolve is indicated for the fight against persistent pimples. The Bio-Retinol + Vitamin C Booster is also an excellent help in the fight against blemishes and scars left by acne, and is indicated for the most oily and pimple-prone skins.
Your skin is dehydrated
If you feel a permanent pulling sensation and have a gray complexion, it is likely that your skin is dehydrated. All skin types can suffer from this, but dehydration is more normal for dry or combination skin.
Hyaluronic acid is the best way to help dehydrated skin. Naturally present in the skin, hyaluronic acid will give your complexion a real boost, complementing hydration levels. Our favorites? The Natural Moisturizing Serum by Evolve Organic Beauty has an excellent value for money and brings intense hydration and leaves the skin soft and voluminous. Oskia's new Isotonic Hydra-Serum Hydrating Serum is the king of hydrating serums. Nnourishing and lightweight, enriched with natural ingredients, vitamins and antioxidants that work to hydrate, strengthen and protect the complexion and support the skin's natural production of hyaluronic acid.
VIEW ALL SERUMS FOR DEHYDRATED SKIN
Want to treat the signs of aging
Using a serum as part of your skin care routine is essential to keeping your skin looking youthful and keeping wrinkles at bay. Anti-aging serums mainly address fine lines, wrinkles and dehydration, but also tone, texture and dark spots. Oskia's Super 16 Anti-Aging Serum is a powerful treatment that has very visible results. Formulated with Bakuchiol, a natural ingredient that replaces retinol, it helps keep skin firm and healthy. For even more immediate results, try Oskia's new Night Serums. With two distinct levels depending on your skin's sensitivity: level 1 and level 2, they are both potent night treatments to help delay the signs of skin ageing.
Your skin is dull or lifeless
If your skin has visible discoloration, hyperpigmentation, sun blemishes or uneven skin tone, then a serum can help breathe new life into your skin Try an AHA and Vitamin C-rich Serum like
t88>Oskia Renaissance Brightligh Anti-Blemish Serum. Or opt for the anti-oxidant and slightly exfoliating power of Vinanza and Kiwis grapes in Illuminating Serum - Apostle Skin-Brightening Serum by Antipodes.
|
Posted on November 13 2019