Double Cleansing:what is it, how is it done and what is the best combination of products for your skin?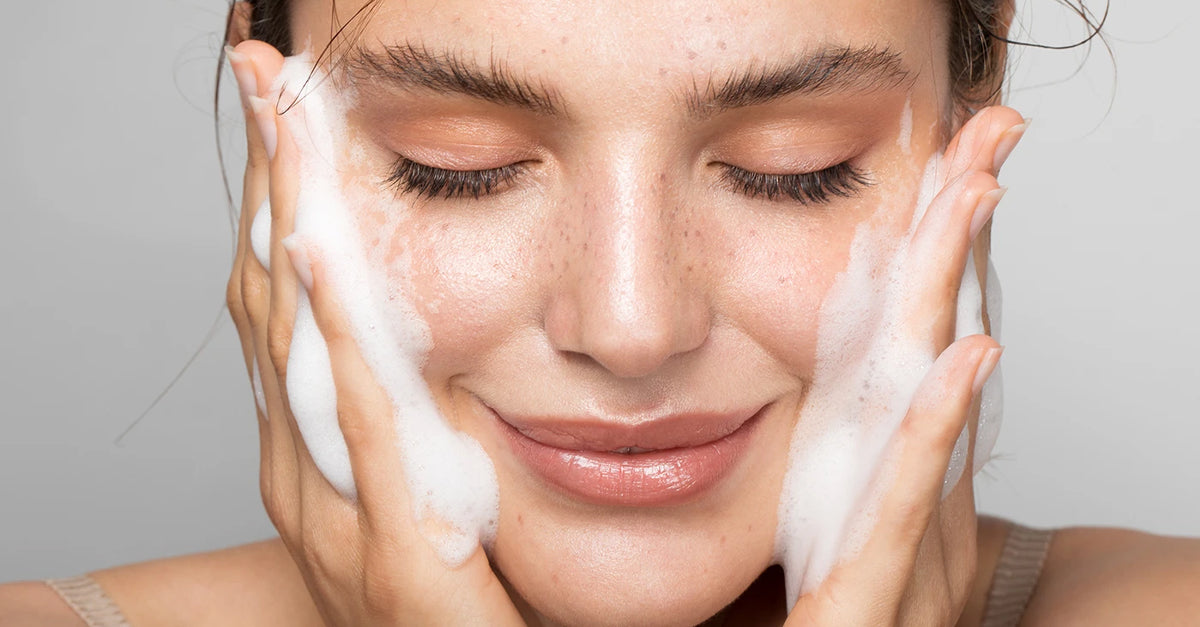 Whatever your skin type, the first thing to do before applying specific skin care products is to make sure your skin is clean. Effective cleansing is the most important step on the way to beautiful, healthy, glowing skin. This step will change your skin's texture and help you begin to address specific issues such as reducing excess sebum and reducing visible pores without drying or irritating your skin.
Double cleaning: what is it??
Double cleaning has two distinct phases:
First, an oil-based face cleanser to dissolve most oil-based impurities in the skin (excess sebum, pollution, sunscreen and make-up).
Then a cream, milk, foam or cleansing gel to improve cleaning and eliminate any toxins that still cling to the skin.
The result: deeper cleansing and skin prepared to really absorb the products you apply next.
An application of just one face cleanser at night is not enough to clean the skin completely. A make-up removal wipe or just micellar water are not sufficient solutions either and should be reserved for situations where you do not have access to water to wash your face (for example, if you are camping, or going to a festival...).
Over time, this type of quick cleaning can make the skin duller and allow the proliferation of pimples or enlarged pores.
Double cleaning: how to do it?
Double cleaning is as simple as it sounds. It involves a thorough wash of the face with two cleansers. The only downside is that cleaning products need to be of two different types to have the desired effect.
Typically, double cleaning should be done at night. In the morning, just use your favorite face cleanser and just one application.
1. Start with an oil-based product (makeup remover)
Place your cleansing oil or balm in the palm of one hand pass it through the opposite hand, and then apply directly to dry skin with both hands, massaging in gentle circular motions, including around the eyes, for 30-45 seconds. It is not necessary to use a separate eye make-up remover if the cleansing oil is gentle enough and formulated without fragrance.
Rinse with lukewarm water or gently remove the cleanser with a soft washcloth dampened with lukewarm/hot water.
2. Finish with a soap-based cleaner

Water
Then, apply a small amount of your cream, milk or regular facial cleanser, and apply it directly onto damp skin (no need to dry it after the first cleaning), massaging in gentle circular motions.
Rinse off the second cleanser and dry your skin gently, with small touches (no dragging) with a clean, soft towel.
The double cleaning: product combinations
Normal Skin
Although you have more freedom in choosing products, choose products that are gentle and non-irritating, with ingredients that nourish and protect your skin.
2nd step
Dry skin
Prefer more nutritious products that pamper your skin while doing their cleansing function.
1st step
2nd step
Combination or oily skin
Even if your skin is oily, don't skip the cleansing step with a cleansing oil! As long as it is a suitable oil, you will see that the results are positive and it even helps to balance your skin!
1st step
2nd step 
|
Posted on March 01 2022