What is the difference between skin types and skin conditions?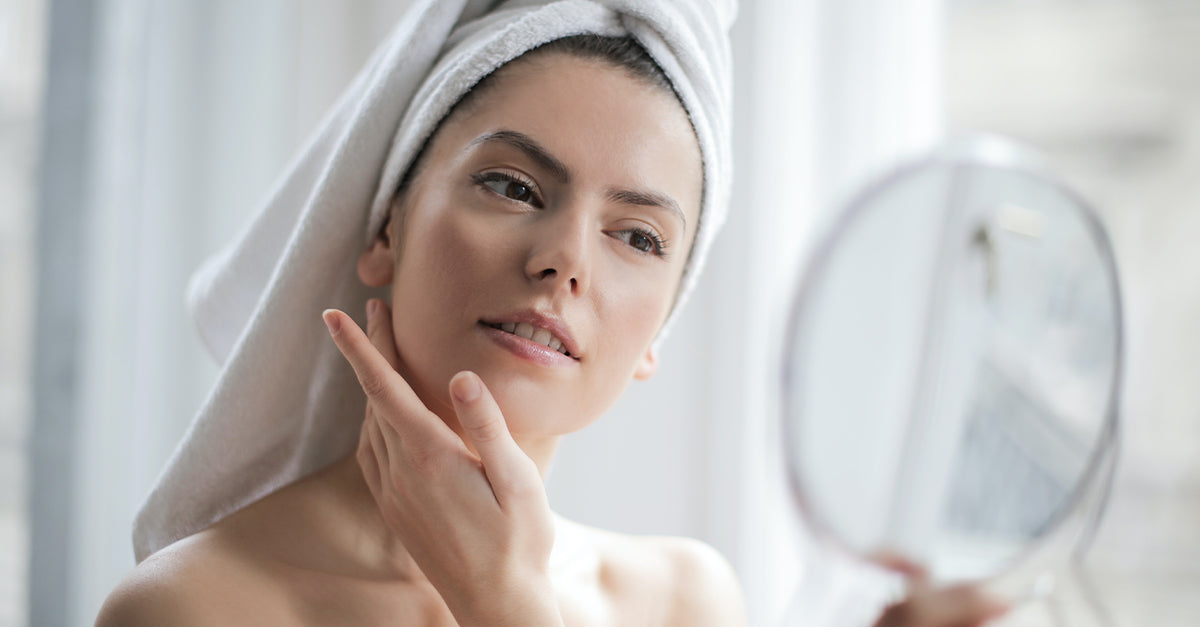 Your skin type is genetic. It is what you were born with, and you will always have a skin type. There are many different experts who count different numbers of major skin types. At The Green Beauty Concept we consider 4 main skin types: normal, dry, mixed and oily.

A skin condition is something that develops as a direct result of something external or internal (it could be hormonal, illness, lifestyle, etc.). A skin condition can be temporary and can usually be treated. Skin conditions, as a rule, are transversal to skin types. In other words, all skin types can suffer from dehydration, acne, enlarged pores, wrinkles or skin sensitization, and so on!
Skin Types
We are all born with a skin type. It may be more or less balanced at certain times in our lives (and approaching a normal skin type), but the truth is that our skin type is genetic and does not change.
Need help determining your skin type? See our blog article with tests you can do at home , or fill out our online form .
Normal Skin
Normal skin is well-balanced skin. But having well-balanced skin doesn't mean you can't take care of it! You should have a skin care routine that helps maintain balance, treat problems that arise and prevent future damage.
VIEW OUR NORMAL SKIN CARE GUIDE HERE
Dry skin
Dry skin does not produce sebum, which prevents it from forming a homogeneous lipid barrier and makes it more uncomfortable and unprotected. The purpose of dry skin is to hydrate and nourish intensely, preferably with vegetable oils and butters suitable for your skin type, to restore the lipid barrier and recover the feeling of comfort.
VIEW OUR DRY SKIN CARE GUIDE HERE
Mixed skin
Similar to normal skin, but may occasionally produce some sebum in the T-zone and not enough in the cheeks. It is the most aesthetic and comfortable skin type, but it can also be the least balanced, subject to change and easily irritated, because it is all too often treated as oily skin with corrosive and aggressive products! Combination skin requires proper nourishing care to stay balanced, healthy and youthful.
VIEW OUR COMBINED SKIN CARE GUIDE HERE
Oily skin
Oily skin is prone to excessive production of sebum, secreted by the sebaceous glands and flowing through the pores. It has a shiny appearance and uneven texture, and may have enlarged pores. It's normal to have pimples and blackheads. Your essential skin care aims to gently regulate sebum secretion: cleanse the skin and reduce shine, reduce the appearance of inflammation and regularize the skin's texture.
VIEW OUR OIL SKIN CARE GUIDE HERE
skin concerns
Skin concerns come and go, depending on our age, lifestyle, external factors, among others.
It is possible, and even likely, that you have more than one concern at the same time . That's why experts like Dr Leslie Baumann describe there are 16 skin types. Because it analyzes the most frequent combinations of skin type (genetic) and skin conditions (situational), giving rise to a large number of possible skin needs .
If you have more than one skin concern, which ones do you need to address first?
Treat the ones that bother you the most first. Sensitivity and redness are therefore at the top of the list, and dehydrated skin is next.
Because? If your skin is sensitized then it's going to be hard to use a good acne product or something for wrinkles and firmness without sensitizing it even more. It will cause discomfort, and exacerbate sensitization. If your skin is dehydrated, it will "drink" all the products you put on it in an attempt to treat dehydration, without being able to "enjoy" the best these products have to address your other concerns (imagine using an expensive anti-aging serum, just to treat dehydration, which could easily be treated first with simple and much-cheaper toner and hyaluronic acid serum).
With these two concerns under control, it's easier to take care of your skin and "attack" other concerns.
Sensitivity and Redness
Does your skin show signs of redness, itching and inflammation? It can be related to two things: it is a genetic factor or a skin disease that must be treated by a dermatologist. If your skin has always had these symptoms and has never felt comfortable, our recommendation is to actually see a professional before trying another approach. Or it may be temporarily sensitized due to external factors.
For sensitized skin, we always advise you to reduce your skin care to the most basic products suitable for sensitive skin. Dermalogica's UltraCalming range is very good for sensitive or sensitized skin. Try swapping your cleanser for UltraCalming Cleansing Cream-Gel and use a soothing toner or essence like UltraCalming Mist Soothing Toner orUltraCalming Redness Relief Essence . For moisturiser, we recommend Gallinee's Moisturizing Face Cream with Probiotics , a must have for sensitized skin, which helps restore the skin's balance.
dehydrated skin
Almost everyone has dehydrated skin. It is a fact that goes unnoticed by those who have a higher production of sebum, such as oily or combination skin, or is mistaken for dry skin by those who have dry or normal skin. But the truth is, dehydrated skin means it lacks water. It has nothing to do with oil production and so it can affect both dry and oily skin!
To treat dehydrated skin, stick with your usual cleanser and moisturizer, suitable for your skin type, but choose to use a good hydrating toner such as City Life Anti-Pollution Spray Toner or Cleansing, Exfoliating and Moisturizer - Beauty Water , followed by a hyaluronic acid serum such as the Hyaluronic Acid Natural Moisturizing Serum , the Isotonic Hydra-Serum Moisturizing Serum or the Skin Hydration Booster .
Pimples and Black Spots
For those who have pimples or acne, whether in combination with oily skin or not, beware of overdoing it with very aggressive cleansers and oil-free moisturizers. If you remove all the oil from your skin, you will not be benefiting it, but creating more imbalance.
Use your normal cleansing, moisturizing and sun protection products, but add specific products to treat pimples, blackheads and acne.
One of the key ingredients for those with pimples or acne is Salicylic Acid . A BHA scrub, known to reduce acne by exfoliating the skin and keeping pores unclogged. It can also help prevent future breakouts. Your best allies can be Active Clearing Serum Anti Imperfections AGE Bright Clearing (it's an oil, but it will help keep the skin balanced and without blemishes), Clear Start Anti Imperfection Treatment Breakout Clearing Booster or Active Clearing Anti Imperfection Treatment AGE Bright Spot Fader that should only be applied to the pimple, or the True Balance SOS Face Mask that helps balance the skin.
Black spots and pigmentation
Don't be afraid to use an acid as it will surely help. Lactic acid will be your best friend in the fight against dull, pigmented and blemished skin and we recommend the Lactic Acid Micro-Peeling Liquid Mask or the Exfoliating Face Mask - Renaissance Mask , both excellent for exfoliating your skin and giving a luminosity boost .
Vitamin C and Niacinamide are also essential for their antioxidant and brightening properties. We especially recommend the Renaissance Brightlight Anti- Blemish Serum or the PowerBright Blemish Treatment Serum . There are also vitamin C-rich serums such as the Super C Smart Nutrient Beauty Serum in Capsules , the Bio-Retinol + Vitamin C Booster or the Age Smart Serum Biolumin-C .
Add these steps to your normal routine, which should already include cleansing, moisturizing and sun protection suitable for your skin type.
Small lines and wrinkles
All skin types age . This is one of the reasons why you should use your sunscreen every day, as it will always be your best prevention weapon. From the age of 25, you can start using anti-aging products as a way to prevent the appearance of the main signs. Whether you want to prevent, or seek to correct signs of aging already installed, we suggest adding an anti-aging serum to your routine. For example, there is the Anti-Aging Serum With Probiotics from GALLINEE , the Anti-Aging Serum Superfood 360 from EVOLVE , the Age Smart Phyto-Nature Firming Serum from DERMALOGICA , the Anti-Aging Serum Super 16 Serum or the Retinoid Night Serum Level 2 - 0.5 % of OSKIA .
|
Posted on February 01 2022