April 2019 Brand of the Month: Skin & Tonic London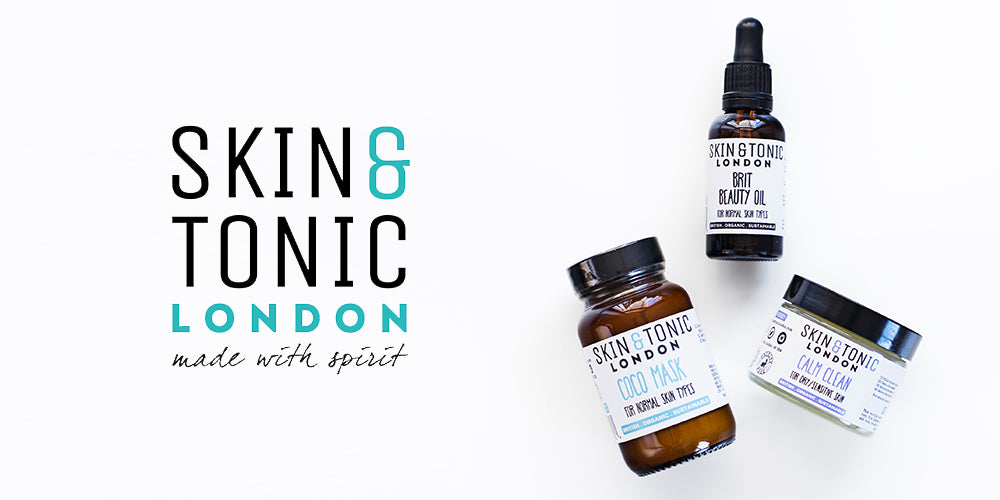 Skin & Tonic is a certified organic brand that does things simply, honestly and ethically. They create certified organic and sustainable skin care and don't use more than 7 ingredients because they believe less is more.
The organic ingredients used in Skin & Tonic are highly therapeutic. The brand only uses ingredients that are full of antioxidant nutrients and omegas that help promote cell growth. The products also help fight the free radicals we are all exposed to every day through pollution and are anti-bacterial and anti-inflammatory.
Skin & Tonic tries to make their products as unisexual and multi-functional as possible, because they believe that a good product is good for both women and men.
Story
The Skin & Tonic brand was created by Sarah Hancock with the help of Josh (her boyfriend / her partner in crime) and with inspiration and support from Deirdre (her soap-making supermom). Josh and Sarah met at a party in 2009 over a glass of Gin Tonic and that's how it was - the unconscious union of two like-minded little dreamers happened.
In 2010, Sarah was diagnosed with endometriosis. Getting sick made her realize that she needed to simplify her lifestyle and pay more attention to what she applied to her skin and what she put on her body. Sarah started intensive skin care research and found that much of what she was using was full of synthetic chemicals that were carcinogens and endocrine disruptors. She gradually started making her own skin care at home with simple, organic ingredients. Within a short time, a persistent case of dermatitis disappeared and her skin improved considerably. At the time, there were few or no skin care products that were 100% natural, and Sarah couldn't get a single product in stores that was completely free of synthetics and preservatives, or silly names and promises. Instead, all she found was gender discrimination and huge amounts of ingredients in the ingredient lists that were in excess. There was nothing that was simple, direct and organic!
So Sarah decided to give up her TV career and went back to school to study Aromatherapy and Skin Care Formulation. And so Skin & Tonic London was born.
Brand Philosophy
Skin & Tonic products are made from certified organic ingredients, and are themselves certified organic by the Soil Association. The brand only uses a maximum of 7 ingredients, and does not test on animals.
Each product is made in small batches by people (not machines), and Skin & Tonic supports small local producers in the UK and France, as well as Fairtrade women's cooperatives in Ghana and Sri Lanka. 10% of profits go to Charity Water.
The organic ingredients used in Skin & Tonic are highly therapeutic when kept in their natural, unadulterated state. The plants from which the oils come have all been grown to international organic standards (certified by The Soil Association) and have NOT been sprayed with chemical pesticides.
Skin & Tonic uses ingredients that are full of anti-bacterial and anti-inflammatory nutrients, anti-oxidants and omegas that help maintain cell growth and help fight the free radicals we are all exposed to every day through pollution. Skin & Tonic creates skin care products from the ground up and believes in knowing ingredient suppliers personally.In this way, the brand is able to guarantee that its products were made organically and naturally from the moment the seeds were planted, until the cultivation, harvest, production and the moment they touch your skin
Featured Products
|
Posted on April 01 2019