Makeup routine for a natural and perfect look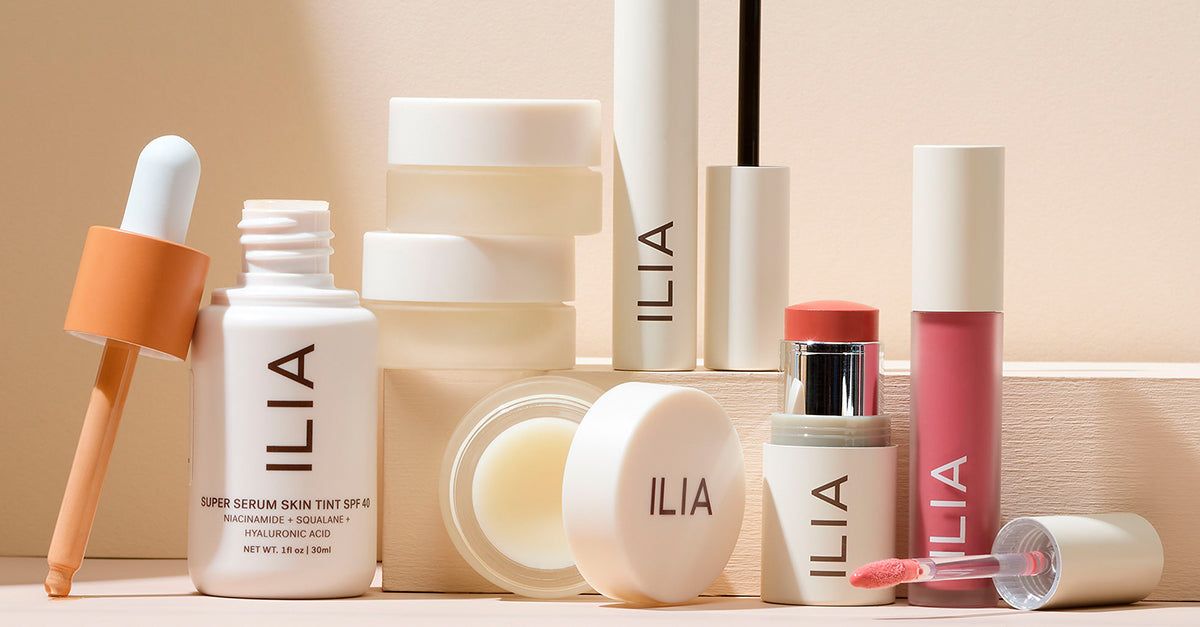 How to get a perfect complexion Follow our 6-step makeup routine to camouflage your imperfections, highlight the key points of your face and get an ultra-natural, fresh and rested complexion!!
Step 1
Prepare the skin well
Skin Care Routine
Before putting on make-up, always do your skin routine, making sure you moisturize your skin well according to your skin type. This allows a better fixation of the base and prevents it from marking areas of dryness.
Sunscreen should be applied every day, after moisturizer and under any make-up step. Once again, it is advisable to choose one that is adapted to your skin type or choose one that already works as a make-up primer, such asDermalogica Age Smart Skiperfect Primer SPF 30.
Make-up primer or base
We also recommend that you choose to use aprimer suitable for all skin types and that allows to slightly unify and brighten the complexion for a flawless makeup, like theTrue Skin Radiant Priming Serum by ILIA. It's super light and smooth, blends in well over sunscreen and helps create a filter on the skin that will make makeup easier to apply and blend into the skin.
Some Organic Facial Oils are also ideal as a make-up base: choose an oil with a non-greasy finish that enhances the skin's radiance, such asBeauty Oil - The Beautiful Oil Kjaer Weis, for example.
Step 2
apply foundation
Then start by applying abased on your skin tone, with your fingers, a sponge or abrush tool.
Always start from the center of your face and work outwards. Don't forget to mix well, and always make sure there's not a line between your face and neck.
Confused about which foundation is best for your skin? Discover our tips and advice for choosing the right foundation for your skin in ourMakeup Routine Recommendation Form.
Step 3
Camouflage dark circles and imperfections
After applying foundation, check for areas of your face that still need additional coverage. In that case, use abroker to do so. It could be that the dark circles area is still a little dark, there is some redness around the nose or some imperfection that you prefer to camouflage. This is the correct phase to do so.
There are those who choose to "skip" the step of the foundation on a daily basis, and camouflage only the imperfections with a corrector. No problem, in makeup there are no rules!
Step 4
The healthy glow effect
For a truly natural and healthy look, you have to bring the color back to the face.
Start by applying abronzer on the outer part of the face, in the shape of a 3 (forehead, cheeks and jaw line), blending well with a large brush. In the case of a cream or liquid product, you can blend it with your fingers or a make-up sponge.
Then apply ablush of a pinkish or peach tone, in the highest points of the cheeks, blending the blush well to merge with the bronzer and there is no line between the two (not even with the skin).
end with ahighlighter in small touches to bring light to the face and obtain a very fresh and luminous complexion. Place it on the upper part of the cheekbones, under the eyebrow bone and in the arch of the upper lip. Once again, don't forget to blend well, so that the highlighter blends into the skin and doesn't leave any lines.
step 5
Highlight your eyes with a good mascara
One of the last steps to apply is theeyelash mask. This step will bringgo-go-voom your look and enhance the best that we all have: your eyes.
Choose the mask that best suits your personal style: natural or lengthening for a more natural look, or volume for a more defined look. Apply the mascara first to the upper lashes and, without putting the brush back into the tube, apply a little to the lower lashes.
Optional: It may also be interesting to comb theeyebrows and fill in any zone where there is a flaw. Here, be careful not to overload, as the look quickly stops looking natural and looks too drawn!
Step 6
Make your makeup life-proof
Finally, apply afinishing powder in the areas where you applied foundation and concealer, to "fix" the make-up and ensure a long-lasting make-up. There are different finishes: it can bemattifying to avoid glare orsatin for a more luminous and natural result.
We recommend that you always finish your make-up with asetting spray, or fine-spray moisturizing toner, to give your makeup a more natural look and help the products blend better with your skin and with each other.
|
Posted on October 06 2021